When the OPEC-Non-OPEC Joint Ministerial Monitoring Committee (JMMC) convened in Abu Dhabi, United Arab Emirates in mid-November, it reported in a press release:
The Committee reviewed current oil supply and demand fundamentals and noted that 2019 prospects point to higher supply growth than global requirements, taking into account current uncertainties. "The Committee also noted that the dampening of global economic growth prospects, in addition to associated uncertainties, could have repercussions for global oil demand in 2019 – and could lead to widening the gap between supply and demand."
The figures they were reviewing were later released by OPEC in its November Monthly Oil Market Report. For 2019, they are projecting a decline in the demand for OPEC crude oil of about 1.04 million barrels per day to 31.54 mmbd. OPEC's October production was estimated at 32.9 mmbd.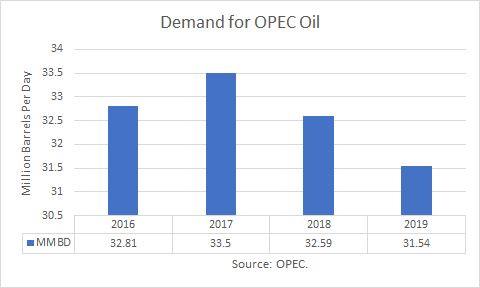 Continue reading "December OPEC Meeting Preview" →