In October 2021, I shared with you my technical outlook for palladium futures.
The chart structure was clear; therefore, I was confident of further collapse of palladium price. The results of your ballot are in the graph below.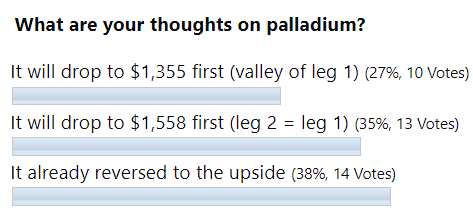 Most of you voted for a bullish trend to resume. The second popular bet turned out to be the most accurate as the price has pierced the upper side of the preset bearish target area at $1,558.
The next step after two-leg consolidation was going to be a huge growth of the metal's price. However, the industry fundamentals do not support that bold plan. Continue reading "Palladium Update: Contradiction" →