Almost four years ago, I wrote about the supremacy of palladium over platinum, and we watched the Platinum/Palladium ratio fall below its long-term valley of 0.56 oz.
In contrast, today the Platinum/Palladium ratio is approaching a 4-year high of 0.7 oz, marking a doubling from its all-time low of 0.31 oz established in 2020.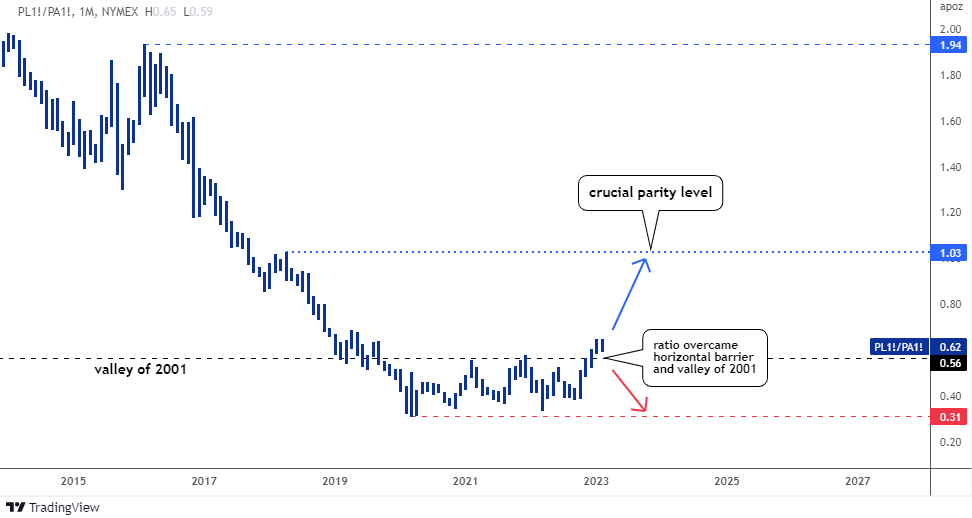 Source: TradingView
On its way up, the ratio broke through a double barrier that included the 2001 valley of 0.56 oz and the horizontal resistance at the top of the range. There are no other barriers for the ratio until it reaches parity between the two metals, which will be a crucial resistance level.
This is because palladium was replaced with the cheaper platinum in the automobile industry due to palladium's abnormally expensive price.
It is estimated that the platinum substitution of palladium reached 340 koz in 2022, and it is predicted to increase to over 500 koz in 2023, more than twice the amount in 2021. Continue reading "Platinum Outshines Palladium, Yet Both Offer Opportunity" →